Mongolia 2009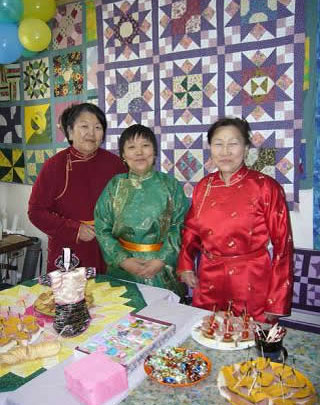 In July 2009, Carol Gregory and I returned to Ulaanbaatar, Mongolia to visit the new Mongolian Quilting Center purchased with funds raised from our capital campaign in 2007 and 2008. What a thrill it was to see the facility and the community of women working there. The shop was inviting with a large variety of products and they did a brisk trade with the tourists, many of whom spotted it from across the street whilst dining at Bd's Mongolian Bbq. The classroom was constantly busy with women sewing and attending classes. The facility also includes a small office for Selenge Tserendash and a tiny bathroom. During our stay, a delegation of five women from Japan visited and we had a celebration at the Center. Local government officials from the Sukhbaatar District attended and presented us with certificates of appreciation. The seamstresses and teachers dressed in their best deels and it was a wonderful gathering to celebrate the success of our campaign. Click here to see more pictures of the Center.

We also traveled in Western Mongolia with Selenge, spending time in the Kazakh area of the country which is very mountainous and different in character. We helped teach for two days in Ulaangom, where one of the teachers from the Quilting Center was running a two week class for 16 students. Click here to see students at work.

Since returning, we continue to sell items made by the Mongolian women here in the US. All the funds are sent to the Mongolian Quilting Center to help with maintenance and operating funds and between August and December, we raised $4,000. Swine flu hit hard in Mongolia and the schools and many public places were closed for 3 weeks. This impacted the Center too. However, they were able to participate in two large craft fairs and did well. The Boroo Gold Mining Company awarded them a grant to remodel and upgrade the shop at the Center enabling them to purchase a proper cash register, new counters and a good quality copying machine.