Mongolia 2012
Selenge Tserendash was awarded a full scholarship to attend a leadership course funded by the Ford Motor Company for NGO entrepreneurs from developing countries. The course took place in New York and lasted for three weeks in June. 24 delegates attended representing 12 nations from Asia, South America and Africa. Selenge was the only one from Mongolia. The course was very beneficial and she made useful contacts who we hope will assist with future grant proposals to help the Center achieve their goal of becoming self-sufficient.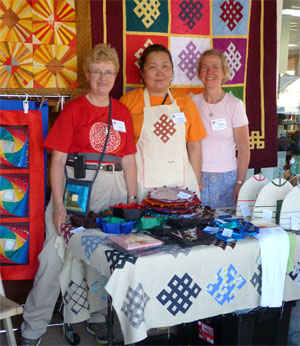 Prior to Selenge coming to USA, women at the Center worked hard making products for us to sell at the Sisters Quilt Show in OR. Selenge connected with a clothing factory that makes traditional Mongolian clothing from Chinese silk (manufactured especially for Mongolians). The factory was throwing away their silk remnants to be burnt or thrown into the landfill. At first they gave these to Selenge, but then began charging a low price when they saw how the scraps, including very small pieces, were being used to make beautiful merchandize. Selenge had as many as 40 women doing piece work to build up supplies of table runners, wall hangings, purses, hand-bags, cosmetic bags and more.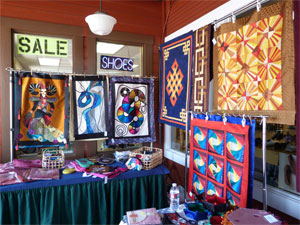 After New York, Selenge returned to the west coast for a week in OR with Nancy Watts and week with me. Then I took her back to Central OR and we met Nancy for a week in the Sisters area. Through contacts of Nancy's, we were invited to curate a special exhibit of Mongolian quilts at the huge Sisters Quilt Show and to sell Mongolian items both at the Arts Walk and during the quilt show. In the five days between the Arts Walk and the show, we submitted the exhibition quilts, explored the beautiful countryside and took two days of quilting classes from nationally known teachers. Kind friends of Nancy's gave us the use of their vacation home in Redmond for the whole week.
| | |
| --- | --- |
| The quilt show was extremely successful netting over $7,000 for the Mongolian Quilting Center! Around 2.00 p.m. the heavens opened for 40 minutes of torrential rain and violent thunder and lightning. For the first time in the 37 years of Sisters Quilt Shows, the 1,200 quilts in this huge outdoor quilt show had to be taken down in a hurry and the show was closed. Our booth was on a large wrap around covered porch and the exhibit quilts were hanging on the outside edges. The quilts were taken down, but the booth remained dry and we stayed busy constantly until 5.00 p.m. making sales and talking to people. | |
Since returning to Mongolia, Selenge has taken a two month marketing course and submitted a major grant proposal. The Center continues to teach Government sponsored quilting classes for unemployed women and teachers also teach in Ger District on the outskirts of town. I had a busy teaching year in USA and raised $10,000 from quilt guilds around the nation, and the ever supportive parishioners at St. Barnabas Church.